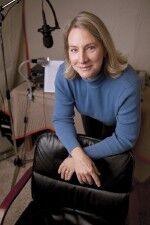 Susan Ericksen  graduated with a masters of Fine Arts in acting. In the 1980s she started narrating books for Brilliance. She has narrated over 300 books and has won several awards. Her husband David Colacci is also a narrator.
How she got started (from an e-mail interview in 2013):
"I was so lucky to get into this business on the ground floor, as it were, and I didn't even realize it until much later. I am a classically trained actress. I was working at a repertory theater in Holland, Michigan right out of Grad School (I got my MFA in Acting), and some of the people who ran Brilliance Audio in Grand Haven, Michigan came to the show I was in. They really liked my voice and my performance and asked me if I'd like to come in and do a multi-narrator piece of Studs Turkel's book, Race. I said "Sure, that sounds fun" and did it. And it just went on from there. The whole audio book business grew like mad soon afterwards (a connection to my involvement? I can't be sure ?? and now, 300+ books later it's my main form of performance work."[1]
How she feels about the In Death series:
"It's WONDERFUL to do a series. In the In Death books, I know that world and those characters like the back of my hand. And I have a strong sense of ownership about them after 40 or so books. I often feel like J.D. Robb may be the biological mother of these books, but I am the adoptive mother. I think that deep sense of knowledge about the books really adds a depth to the recordings, because there's so much background and tone and history that I bring to the character's interactions. Also, I think I really understand the style of the books, and the world wherein the stories all take place. The slightly futuristic world- it's not abstract for me, I've "lived" in it for years now. Very cool. I have a similar feeling about the Sara Paretsky novels (V.I. Warshawsky) and the Meg Gardiner books."[1]
About fans (YouTube comment):
"Being a narrator is kind of a weird thing- you spend a lot of time in a dark room all by yourself. It's WONDERFUL to make contact with the folks who are listening to what I've worked so hard to produce."
To read more about Susan Ericksen check out The Reading Date interview or the AudioFile article.